5 reasons to try AO2 Clear for your best skin ever.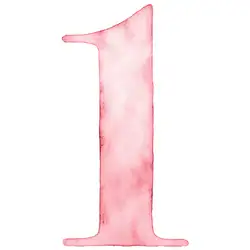 Power of Oxygen Nanobubbles
Oxygen isn't just cleaner, it's better. Acne inflammation is caused by anaerobic bacteria that thrive in environments that lack oxygen. AO2 Clear's concentrated oxygen nanobubbles flood your pores killing the bacteria on contact minimizing acne inflammation and preventing new pimples from developing. No other treatment, over the counter or prescription, delivers as much concentrated oxygen to your skin. Read why oxygen is the magic bullet.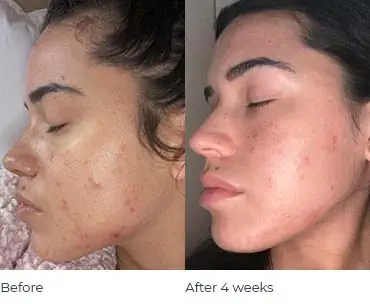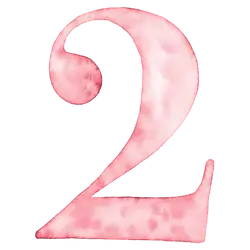 Highest Standard of Clean
Most treatments use harsh chemicals like benzoyl peroxide, salicylic acid, or alpha hydroxy acid. AO2 Clear is radically different as it contains distilled water, billions of oxygen nanobubbles and patented science. Nothing else – no fillers, no preservatives, no dyes, no junk. In fact, it may be the cleanest product you've ever put on your face. Read what "no junk" means.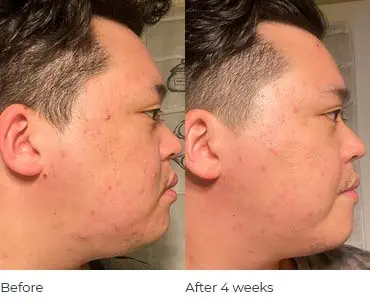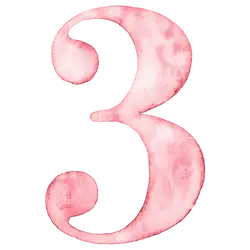 No Dryness or Irritation
Most acne treatments, including retinol, cause dryness, irritation, redness, and flaking. AO2 Clear has no harsh chemicals and poses no risk of side effects. It's completely safe for all skin types – even if you are trying to conceive, pregnant, or nursing. Read why AO2 Clear is easy on your skin.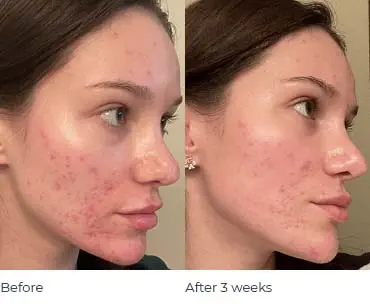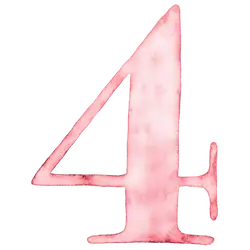 Visibly Healthier Skin
AO2 Clear isn't just a better acne treatment, it's the foundation for a healthier skin regimen. Applying AO2 Clear provides extreme hydration and smooths skin improving complexion even if you aren't currently experiencing an acne flare-up or if your skin type is not prone to acne. Read why A02 Clear can help reverse aging.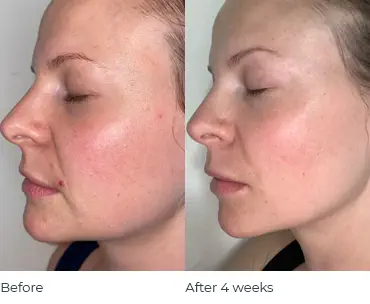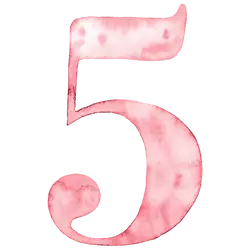 Zero Risk to You
If you don't love how AO2 Clear makes your skin look and feel – return it for a refund. No questions asked. And for a limited time – we are offering a 30-day trial for only $35.96 (use code zerorisk at checkout)- that's more than 20% off our regular retail price of $44.95. Learn More about our Money Back Guarantee.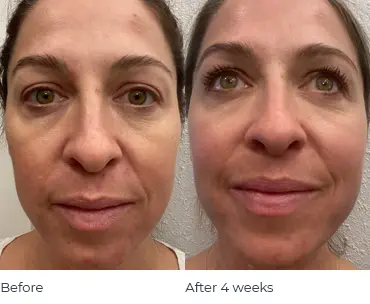 Read What A02 Clear Customers are Saying
"I just started using AO2 a couple of weeks ago and I can already see a difference. My pores on and around my nose have gotten smaller and the tone of my face has really improved. It also feels really good during application and after I use it for the next couple of hours. My teenage kids also really like it and have noticed an improvement in their complexions. I look forward to using it each day."
"Total game changer. I've had sporadic issues with acne all my life… no more. Thanks to A02 now my skin is happy and healthy and clear, 100% of the time."
"I love this product!!! I have been using it for 3 weeks now and, only after a few days, I noticed how clean and hydrated my skin felt. After one use my skin felt softer. I use it every morning and evening right after cleansing my face. I even started my husband on it and he also loves the way his skin feels after he puts it on. Go for it!!!!"
Why is oxygen the magic bullet against acne?
What do you mean when you say AO2 has no junk?
Let's talk about common ingredients in almost every skin care product. Formaldehyde releasers and non-formaldehyde releasers (such as parabens) are often added to many skin products because they prevent microbial growth and extend shelf life. Fragrance mix and Balsam of Peru are other common additives. These preservatives and fragrances are hard to avoid in commercial skin care products and unfortunately, are common triggers for rashes like allergic contact dermatitis. (Reference: Nguyen HL, Yiannias JA. Contact Dermatitis to Medications and Skin Products. Clin Rev Allergy Immunol. 2019 Feb;56(1):41-59. doi: 10.1007/s12016-018-8705-0. PMID: 30145645.)
Why is AO2 Clear tolerability so important?
Available options for acne are generally fairly irritating. In a review of topical acne therapy including benzoyl peroxide, salicylic acid, prescription retinoids, and antibiotics—it was found almost half of patients gave up treatment for either lack of response or side effects such as redness, stinging, or irritation. Your acne treatment doesn't work if you are unable to use it consistently. (Reference: Topical treatment of acne vulgaris: efficiency, side effects, and adherence rate.)
How can AO2 Clear make skin healthier?
How does the money back guarantee work?
Money back guarantee applies only for one (1) AO2 Clear 30 Day Supply product
Try for 30 days. Suggest using twice daily for 30 consecutive days.
If you're not happy, return the pouches…even if empty up to 45 days after purchase.
You'll receive a refund of the purchase price less shipping (approximately $13.00) & handling (approximately $3.00)
Instructions for first-time buyers and would like to activate your 30 Day Money Back Guarantee, just follow the steps below:
1. Email

 

hello@ao2clear.com

 

to request a refund and to receive the return address.  Include a copy of your receipt (or a a note with your order number, name, email address and phone number).
2. On receipt of the item you will receive a refund. This can take between 3 – 5 business days to be reflected in your account. Refunds can only be made to the original payment method.
3. Existing users who create a secondary account with a different email address will not be eligible for the 30 Day Money Back Guarantee.